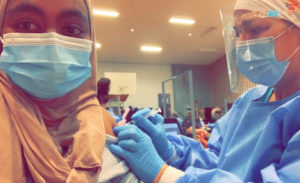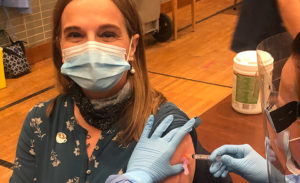 Sunbeam Community & Developmental Services has been advocating for the developmental services sector to be included for priority access to COVID-19 vaccinations. Working closely with government and health authorities, locally and provincially, our voice is being heard for both front-line staff vaccinations and vaccinations for the vulnerable persons we serve. Recognizing that Sunbeam's congregate living programs include a specialization in supporting medically fragile / technology dependent individuals, the nurses and other direct support professionals at Sunbeam who provide 24/7 care and supports are the trusted front-line heroes in safeguarding the health and well being of the individuals we serve.
So far, 125 Sunbeam front line staff have been offered and accepted the COVID-19 vaccine, with each vaccination consisting of two appointments – a 1st dose followed later by a 2nd dose per vaccine administration directions.
The vaccination appointments are being offered and assigned to staff in priority sequence, based on safety and risk factors related to the care and support of our persons served in congregate living settings More staff vaccination offers will be forthcoming from the local health system, but the timing of additional staff vaccination offers is not known at this time.
Per overall the overall provincial COVID-19 vaccination framework for vulnerable sectors, we anticipate that staff vaccinations will be followed by vaccinations for persons served in congregate living settings.
Several Sunbeam staff were happy to share photos from their first vaccination appointments at Grand River Hospital!
To help staff, clients and families make informed decisions regarding COVID-19 vaccinations, please refer to the COVID-19 vaccine information resources available on Sunbeam's website:

 COVID-19 Frequently Asked Questions

Plain Language Guide to COVID-19 Vaccine

Plain Language Flyer "Get Your COVID-19 Vaccine"

What I need to know about COVID-19 and the COVID-19 vaccine
You can see the smiles behind their masks!
Thank you to our staff for allowing us to share a few pictures from their first COVID-19 vaccinations.