At Sunbeam Centre, we are committed to providing collaborative services to individuals with developmental disabilities, their families, and caregivers. We provide shared services through  Waterloo Region and the surrounding area. Sunbeam Community Living Services, Developmental Services Resource Centre (DSRC), and Developmental Services Ontario Central West Region (DSOCWR) are all part of the Sunbeam Centre family sharing common vision, mission, and core values.  
Our mission: Providing innovative opportunities that enable the people we support to reach their goals and achieve recognition of their value in the community.
Our vision: Inclusive communities where people of all abilities are valued.
Both DSOCWR and DSRC – offer community supports and system navigation for individuals with developmental disabilities and their families – DSRC for those under 18 years old and DSOCWR for those over 18 years old.
The way in which we collaborate may not always be obvious to individuals and families using our services, however we share many resources, including facilities, administrative supports, and operational guidelines.  The ultimate goal of all of this is to share resources, reduce operational costs to keep services affordable and accessible, and provide strengthened supports for the individuals and families that access our services.
More about DSO – Central West Region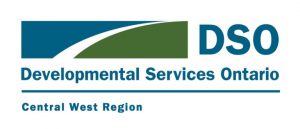 There are 9 DSO locations across the province of Ontario.
As of 2011, Sunbeam Centre was selected by the Ministry to host the operations of the local DSOCWR.  
DSO is the access point for adult developmental services. DSO is responsible for determining if individuals are eligible for services and supports, as funded by the Ministry of Children, Community, and Social Services. DSO can also assist connecting individuals and families with many different services provided by other organizations and community partners. Services might include, but are not limited to, community participation supports, caregiver respite, and residential supports.
Nancy Plater, Director of Development Services Ontario Central West Region, says, "Each DSO builds on the strength of its host agency. Sunbeam Centre is a strong identified leader in the developmental services sector. The uniqueness of Sunbeam has given the DSOCWR an opportunity to learn and grow and gain a fuller understanding of the challenges faced by service agencies in providing unique supports to families."
More about DSRC – Waterloo Region


DSRC provides clinical supports, such as therapies and programs, in families' homes and out in the community for children with developmental disabilities. As a single point of access for children's developmental services, DSRC helps families and individuals navigate the systems in place.
When a child comes in, DSRC will connect them to the services they need until the age of 18. In many communities across Canada, a resource like this is not available. Families must navigate many systems and organizations in order to access the services they need on their own. With DSRC, and the extended partnership to Sunbeam Centre, children can get everything they need in one place – a team of experts to work together to deliver services and access to community partners' services.  
Collaboration is Crucial
Sunbeam Centre – Sunbeam Community Living Services, Development Services Ontario CWR, and Developmental Services Resource Centre, are working together to help individuals navigate the systems in place more easily and ensure that every member of our community is cared for and has access to the services they need.