Event:
Curbside BBQ in Support of Sunbeam!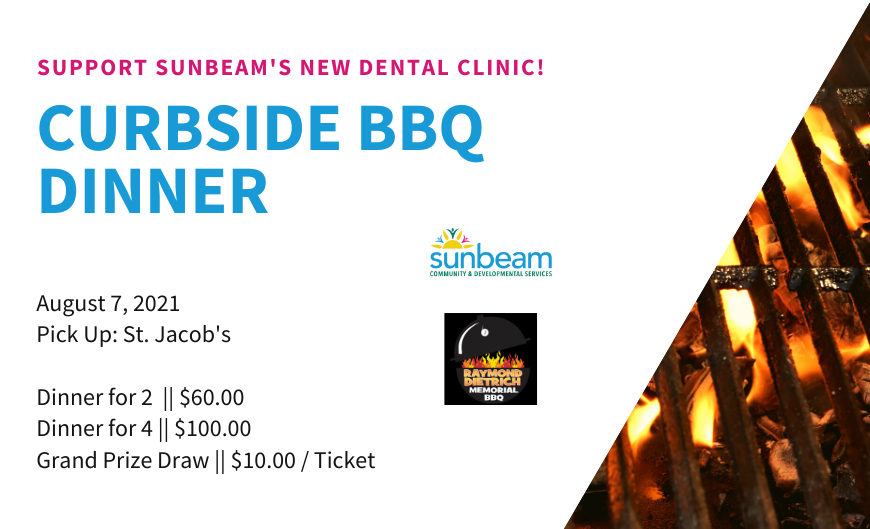 Raymond Dietrich Memorial is the BBQ event of the year – and this year part of the proceeds from this fundraiser will be donated to Sunbeam Community & Developmental Services' new specialized dental office!
On August 7, 2021, join us for a delicious BBQ meal, great prizes, and community! 
If you'd like to participate there are two main ways:
1) Order Dinner
Learn more about the dinner below!
2) Enter Draws 
Click here to learn more about the draws, prizes, and how to purchase tickets! 
The Menu: 
Every BBQ meal consists of a selection of Smoked BBQ meats, a variety of sides, and a dessert. 
Mains: Brisket, Pulled Pork, Chicken Drumsticks

Veggie Side: Corn on the Cob, Potato Salad, Coleslaw

Additional Side: Mac and Cheese with Maple Smoked Pork Belly

Dessert: Tarts
The Cost:
A 2 person meal is $60.00
A 4 person meal is $100.00

 
The Deadline: Place your BBQ order by August 1st
The Pick Up Details:
All are welcome! However, there is a capacity for dinner – so get your orders in now.
Thank you so much to the organizers behind Raymond Dietrich Memorial BBQ!