Lisa Celebrates Milestone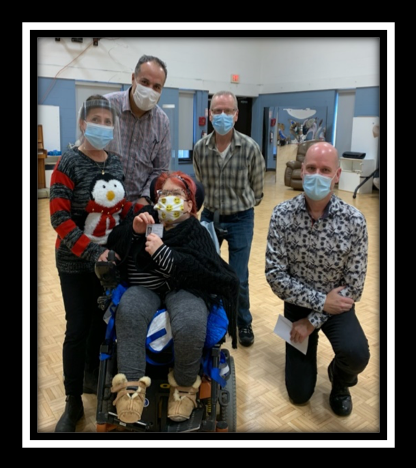 Lisa is presented with her "Driver's License" surrounded by Sunbeam Supporters
Back, Left to Right: Tracey, Abe, Gary, Brian Front: Lisa
Written by: Katharine O'Brien
This past Monday, Dec 20, 2021 Sim's Resident, Lisa celebrated a milestone that was two years in the making!
It was Abe Eblan, Sunbeam's Complex Care Coordinator, who first suggested that Lisa could benefit from "driver's training" to learn safe and proper driving techniques with her new electric wheelchair.  Lisa was eager to get started with developing a new skill.
Lisa mentioned that the COVID-19 pandemic occasionally put some wrinkles into her "driving lessons" with Abe, but she didn't let that discourage her, and she persisted!
Like most graduated licensing drivers, Lisa first practiced driving her wheelchair accompanied by specific Sunbeam Staff as she built up her skills and confidence.
Reaching this milestone provides Lisa with more independence and confidence with her new chair, something she has worked hard to achieve.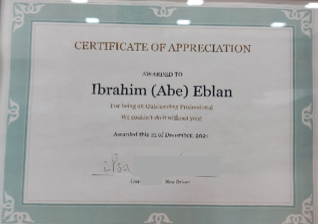 Yesterday, Lisa woke up early to make a special Certificate of Appreciation for Abe in recognition of his dedication to helping her to succeed!
Many staff at Sunbeam know just how hard Lisa practiced, and many were excited to join her as she celebrated this milestone.
From your family and friends at Sunbeam, Congratulations on obtaining your "driver's license!" You have certainly earned it!