What an exciting birthday for Marcel! Marcel enjoyed celebrating his 21st birthday while attending his graduation prom on the same day!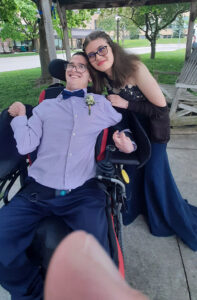 He did a lovely promposal to his girlfriend at school, who happily accepted, and the two were able to attend prom together with the support of our Kingsdale staff, Jolayne. Jolayne ensured that Marcel had an amazing time while providing Marcel assistance only when needed.
Marcel danced the evening away and the other students loved seeing the lights on his wheelchair light up the dance floor. He also enjoyed a special surprise when all attendance sang happy birthday to him!
Later this month, Marcel will be graduating from high school and is so excited to be starting a new chapter in his life. He knows EVERYTHING about apple products and is considering exploring a career in the tech sector.
His friends, family, and Sunbeam staff are so very happy for him and can't wait to see what the future holds for him. Happy birthday Marcel!