Aiyana celebrated 1 year of living with Sunbeam Community & Developmental Services.
When asked what she likes about living with Sunbeam, she said that she particularly enjoys going on outings with others living with her as well as the staff that support her. Aiyana said that she has more freedom to do things that she wasn't able to before.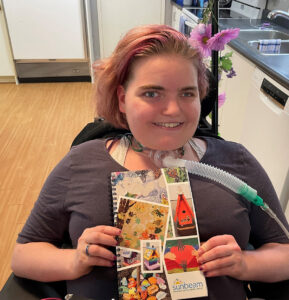 Aiyana is a warm and caring person who likes to help and to be included whenever there's work to be done. For example, when assembling gift baskets, she volunteered to help put them together with her close friend Lisa. They had a wonderful time listening to music and making sure that everything was done properly.
Because of her helpful spirit, she is regularly helping others she lives with. She says it makes her feel appreciated because she's able to do something to help others.
Thank you Aiyana for all the amazing things you bring to our Sunbeam community! We're so happy that you're a part of the family!