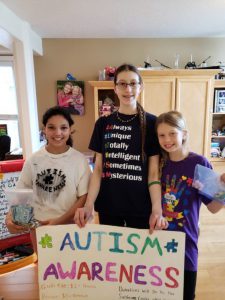 In April 2019, 15-year-old Chiara decided to take matters into her own hands. She had just learned of the
changes to the Ontario Autism Program
by the current provincial government and it was Autism Awareness month. Chiara herself is on the autism spectrum and has participated in activities with Sunbeam Centre through the Developmental Services Resource Centre."I don't like to think that something will happen to Sunbeam Centre – I want it to keep working or else people will be sad. It's important to me and it's important to a lot of people," said Chiara. 
Chiara is no stranger to fundraising and advocating for herself and for others – she has done a lot of it at school. "We want to make sure that no one will be left behind.  I'm already pretty active when it comes to Autism awareness, like at school. A lot of people at school were using Autism as an insult. I did a persuasive argument in English class about how it's not one." 
On that day in April, Chiara rallied her sister and friends to go around the neighborhood to ask neighbours and raised over $200.00 to support Sunbeam Centre!  "It feels good to make other people happy…We had one lady dump out her whole change purse!"
Chiara was even able to talk with some neighbours that hadn't heard about the recent changes to the Ontario Autism Program and really convey the impact of funding changes like this for her family, friends, and herself. 
We asked Chiara for her advice to others for who want to fundraise and/or advocate on behalf of Sunbeam Centre, or any other cause. She told us that people need to be brave. "People need to take action – you don't always want to be the first one to jump in, but we have to start the conversation and all make the world a better place…Even if you're nervous about talking to people and people having bad reactions – I would say, still do it." You could always do what she did and ask a friend to come support you along the way.
Sunbeam Centre is very proud to have Chiara in our corner. We can't wait to see how she continues to support her community in the future!
If you're interested in running your own third party fundraiser,
get started here
! Be brave and have fun!