Sunbeam Receives a Donation
Sunbeam has received a substantial gift of $5,000 from Skyline Group of Companies for the Hospital Care Program.
"Skyline is a company of passionate and community-minded people," said R. Jason Ashdown, Co-Founder and Chief Sustainability Officer, Skyline Group of Companies.
"We strive to make a positive impact on each community we do business in. We see Sunbeam an as incredible contributor to the community and we're proud to sponsor their organization."
On January 16, 2023, Mandi Sweiger, Skyline's Vice President of Human Resources, presented the donation cheque to Chief Executive Officer Brian Swainson at Sunbeam's Kingsway location. Members of Sunbeam's senior leadership were also present at the occasion.
Skyline Group of Companies has generously supported Sunbeam's Respite program in 2021 as well. A big thank you to Skyline for supporting Sunbeam. Support of allies like Skyline is vital and plays a crucial role in helping us achieve our goals.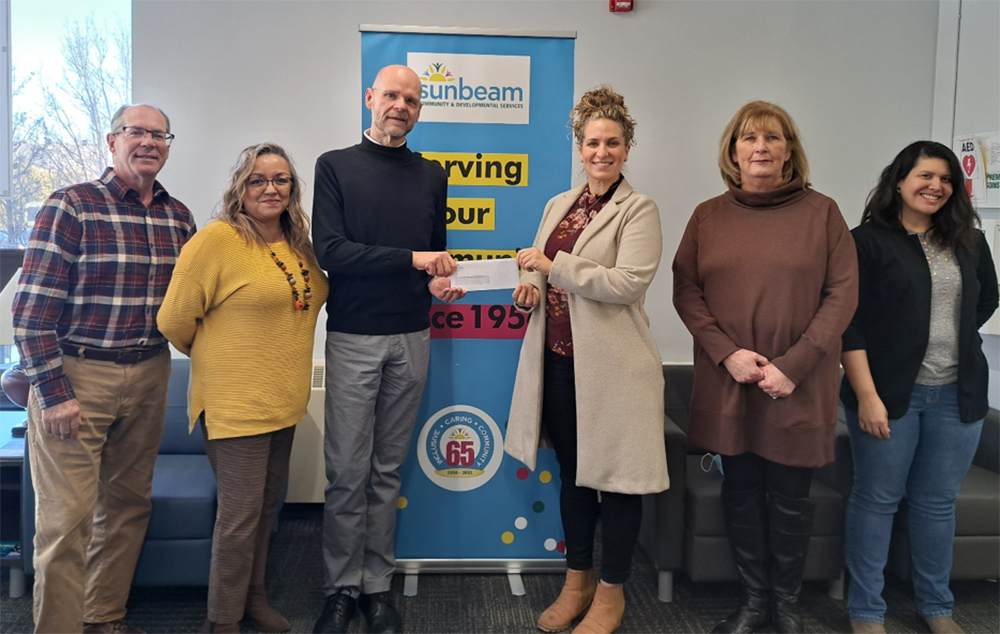 From left to right: Tim Wilson, Sunbeam's Chief Administrative Officer; Lourdes Toro, Sunbeam's Director Community Living Services; Brian Swainson, Sunbeam's CEO; Mandi Sweiger, Skyline's Vice President, Human Resources; Laura Thies, Sunbeam's  Chief Operating Officer and Amanda Ficca, Sunbeam's Manager of Community Living Services.