"Overcooked" Nintendo Switch Game Review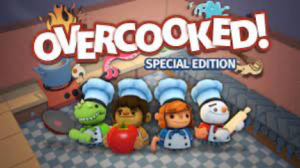 "Overcooked!" is a cooperative team game on the Nintendo Switch where you play as a chef who is trying to make the dinner rush as efficiently as possible. You make a variety of meals from soup to sushi to hamburgers while facing obstacles that are original to each level. You must chop vegetables, cook meat, prepare soup, wash dishes and serve up plates. This game is best played with friends although it can be played alone.
I think this game is super fun because it's the kind of game that draws you in and will cause even the calmest person to yell with excitement. The intense environment and need for cooperation create a game play experience that is not for the faint of heart. Don't let the cute icons and calming music fool  you. To be honest, I find the single player mode a tad underwhelming compared to multiplayer mode. The pressure put on you by the other players is what makes this game so special, but the design and personality in single player mode is good nonetheless. "Overcooked!'s" wit, charm and addictive gameplay make this a great addition to anyone's collection.
I give it a 4 ½ "Suns" rating.

Submitted by: Patty Schmidt, Sunbeam Volunteer, Cambridge