Snowman Cake Pops
It's getting snowy! What better way to welcome the snow than by making these delicious and fun snowman cake pops with your friends and family.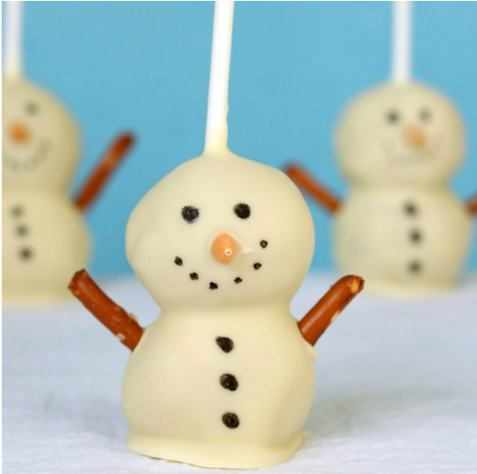 Ingredients for cake pops:
2 cups sugar
3 ¼ cups flour
2 ½ teaspoons baking powder
1 teaspoon salt
¾ cup unsalted butter, soft
1 ¼ cup milk, room temperature
2 teaspoons vanilla extract
4 eggs
Decorating ingredients:
20 ounces white chocolate
Pretzel sticks
Mini chocolate chips/ orange candies
Lollipop sticks
Canola oil (may be needed)
Ingredients for vanilla icing:
¾ cup unsalted butter, room temperature
1 teaspoon vanilla extract
3 cups powdered sugar
1-2 tablespoons of milk
Recipe: Cake
*Hand mixer or electric mixer is needed*
Preheat oven to 350 degrees
Grease a 9" x 13" pan
In a large mixing bowl add the sugar, flour, baking powder and salt
Add butter into the dry ingredients and mix on low until the mixture looks sandy
In another bowl add the milk and vanilla
Add the milk and vanilla to the sand like mixture, mix on low for a couple of minutes
While the mixer is on low, add in eggs
Once all eggs are added, increase speed to medium and beat for 30 seconds, scrape sides of the bowl and mix again until combined
Pour batter into the pan and bake for 27 minutes, the cake should look golden brown
*To test if the cake is done insert a toothpick, it should come out clean*
Recipe: Icing
In a large bowl, cream together butter and vanilla until combined
Add 1 cup of sugar at a time to the butter and vanilla, make sure it is thoroughly combined
Mix in the milk, until desired consistency is reached
Assembling the cake pops:
Once the cake is cool, cut into 6 pieces and use your hands to crumble each piece into a bowl
Add icing into the bowl with the cake crumbles until thoroughly combined
Roll into 1 ½ inch balls
Place the cake balls on a baking sheet with wax paper, chill for several hours in the fridge or for 15 minutes in the freezer
Melt the white chocolate, stir in 1-2 tablespoons of oil to thin out chocolate (if needed)
After they are chilled, stick two cake balls on each lollipop stick
Dip the cake pop into the white chocolate until they are completely covered, let any excess chocolate drip back into the bowl
Take the pretzels and push them into the sides of the bottom cake ball, creating the arms for your snowman
Use the mini chocolate chips for the eyes, smile and buttons for the snowman and use the orange candies for the nose
Keep in the fridge until ready to serve and enjoy!
Recipe from: http://www.52kitchenadventures.com/2011/12/27/snowmen-cake-pops/
Submitted by: Alexandra Klerer, WLU Student Blogger