Baxter the Golden Retriever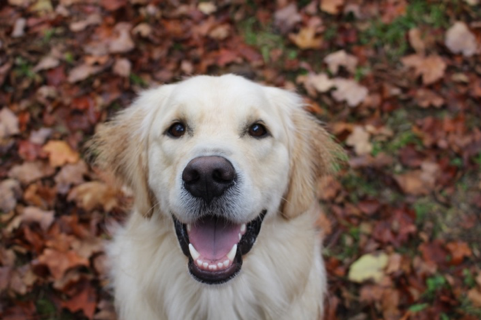 I have two dogs and they are my best friends. Today I will be talking about my one dog Baxter. He is a 5, soon to be a 6-year-old golden retriever. We got him when I was in 9th grade on April fool's day. We knew we were going to pick him up for a while, so it was not an April fool's joke that came true if you were thinking that.
To me and my family, Baxter is a therapy dog. He isn't registered as one, and we didn't get him for this reason, but it just turned out that he became one. He is a very cuddly boy and thinks he is a lap dog. He can sense when you are feeling down and will come over and sit with you and cuddle you, which makes your mood boost almost immediately. Although Baxter isn't one, golden retrievers are often guide dogs for people with disabilities. They can be eyes for blind people, they can sense seizures for epilepsy and many more things as well. Even if you don't need a guide dog for anything, they can be great "therapy" dogs for when you are feeing down and even just to keep your mood up even if you aren't feeling sad. Overall, I would recommend a golden retriever to anyone wanting a dog, they are great and truly a man/woman's best friend!
Submitted by: Megan Roberts, WLU Student Blogger